Happy Spring Break everyone! 
If you're doing a staycation and haven't tried one of Rochester's trampoline park adventures, I highly recommend Altitude.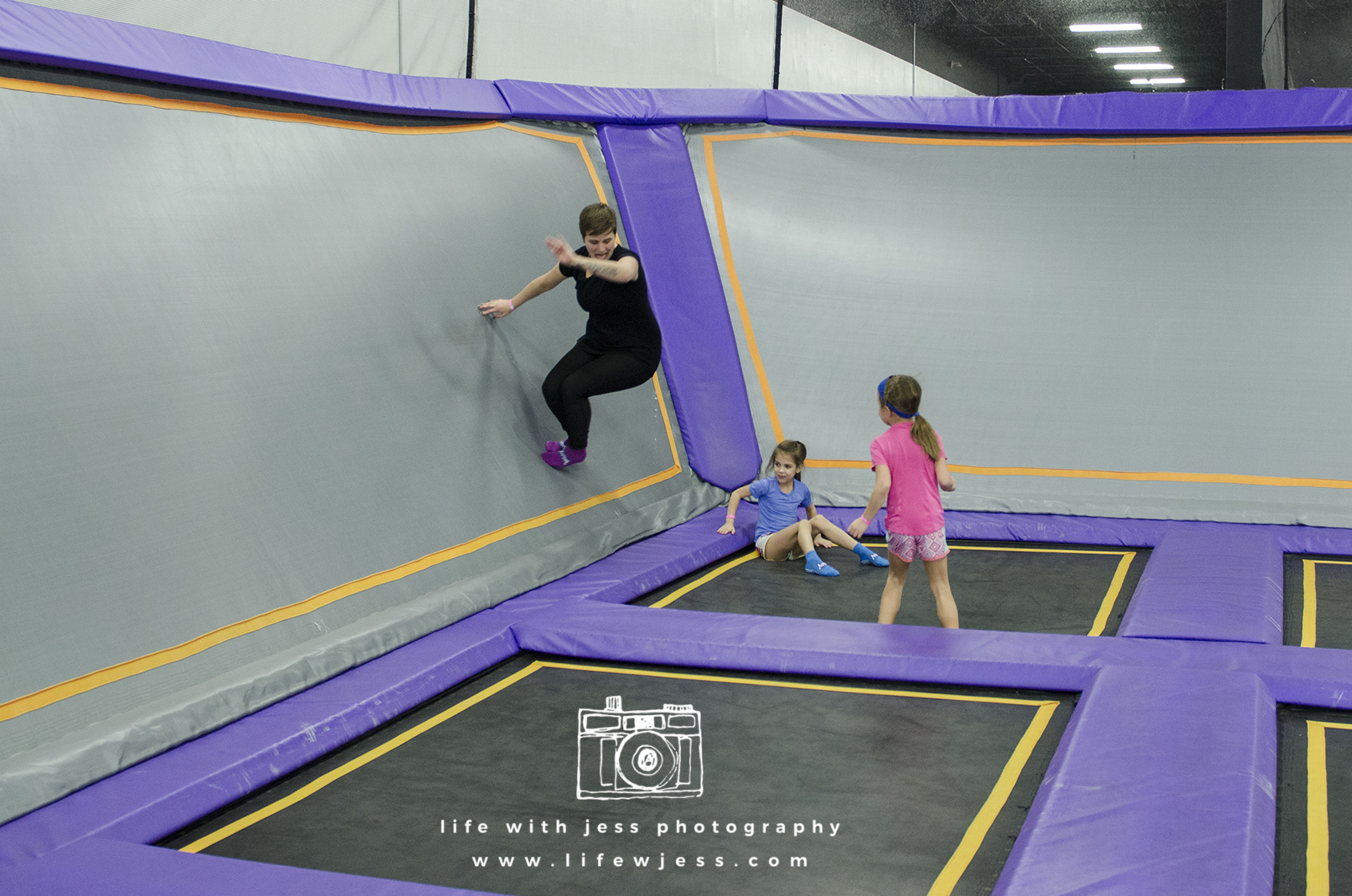 Especially if you feel like your kids are bouncing off the walls because of all this wintry weather we've been enjoying in Upstate NY 😉
Why not try some place you can ACTUALLY bounce off the walls?!?!?
It was most recommended to us because not only does it have the trampolines, as promised, but there's also a rock climbing wall above a foam pit! (And a battle beam, too!)
I was quite surprised with how difficult it was to move through the foam pit. There was a lot of laughter and some worries about lost socks getting sucked away into the foam quick sand 😉
I knew the little ladies would have a blast doing this but I had NO IDEA that I would have so much fun! There's nothing like bouncing and jumping and playing and laughing to make you feel like a kid again.
Also it's a killer workout, so be warned and dress appropriately. 
We brought some snacks and a water bottle that we were able to refill at the drinking fountain.
I mean, you can bounce on everything here! The floors, the walls, the ceiling.
Just kidding, not the ceiling.
But there is a dodgeball court, and there are "tumbling lanes" and even a section you can run-bounce down a lane and jump or FLIP into the foam pit, which I was nervous about (seriously can't remember the last time I flipped on a trampoline) but once I finally got my big girl panties on it was SO FUN!
This little lady was super into jumping splits, and I was quite impressed with her flexibility and strength! 
Here's the park website. They are open from 10am-9pm M-Th, 10am-11pm on Fri, 9am-11pm on Sa, and 11am-8pm on Sun!
And the city had their break week already, so I wouldn't worry about it being too crowded! 
Happy jumping, climbing, scrambling, and flipping y'all!
---
Like this post? Pin it to your to-do day trips board! And let me know in the comments how you liked it!
---